Biography
Musician / Music-Theater Maker / Improviser / Dancer

(Photo by Getoutski)




"The Lady Gaga of the recorder"
— Katie Duck

"Experimental recorder player"
— Floris Solleveld

"I don't know whether she is a dancing recorder player or recorder playing dancer"
— Jorge Isaac



Josephine's musical and performance abilities and interests are greatly varied and she enjoys to create and present innovative concert programs and music-theater performances. She is also a composer and coach for dance and music-theater works and many composers have written for her and her ensembles. She is known for her "expressiveness, virtuosity and special warm sound" (WN 2007/DE).

Josephine Bode is founding member of the ensemble aXolot that grew in the meantime into aXolot Synergy - a company generating high level performances in the field of music, music-theater, visual art and dance.
(Photo by ?)
(Photo by Dirk Grobelny)
Educational
As a daughter of a flamenco guitarist she is highly influenced by music and spanish culture from a young age. Before her move to Amsterdam she studied recorder with Gudula Rosa at the "Westfälischen Shcule für Musik Münster" and theater with Barbara Kemmler (director of Cactus Junges Theater).
Josephine Bode studied recorder at the Sweelinck Conservatoire of Amsterdam (NL) under the tutelage of Paul Leenhouts. In 2012 she finished her Masters in Modern Music Theater (T.I.M.E.) at the Royal Conservatoire of The Hague (Netherlands) under tutelage of music-theater director Paul Koek and dramaturge Paul Slangen.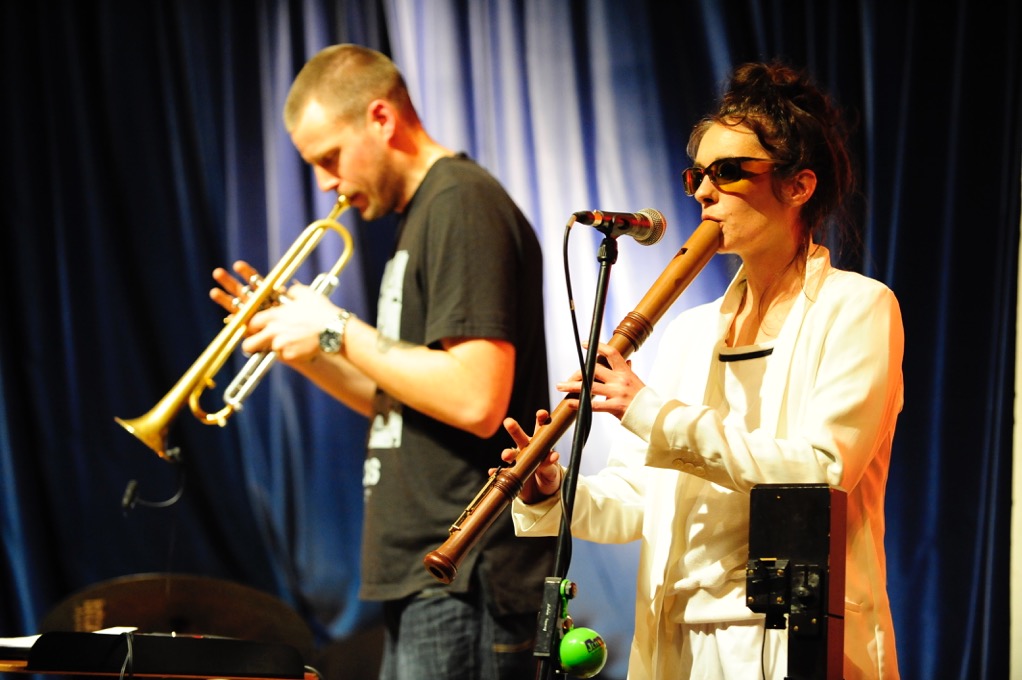 (Photo by Helmut Berns)
(Photo by Helmut Berns)
Josephine Bode was awarded many prizes on National and International competitions as a soloist and as a member chamber music groups for early and contemporary music.
As a soloist she performs contemporary, improvised and early music often with the use of live-electronics and/or theatrical elements and visual art.
She participated in many different projects as a musician, actress, composer, coach and dancer. She also plays the Bulgarian flute and the EWI (Electronic Wind Instrument)
(Photos by ?)
Teachers
Paul Leenhouts (recorder, Amsterdam/NL)

Paul Koek (director for music-theater, Leiden/NL)

Paul Slangen (dramaturgy, Leiden/NL

Gudula Rosa (recorder, Münster/DE)

Barbara Kemmler (theater director, Münster/DE)

Walter Van Hauwe (recorder, Amsterdam/NL)

Ana Leonor Ladas (dance and choreography, Amsterdam/NL)

Ali Tufekçi (turkish Ney, Istanbul/TR
Studies
Westfälische Schule für Musik Münster/DE

Conservatoire of Amsterdam/NL

Royal Conservatoire of The Hague/NL

Chamver music courses at Schloss Krickenbeck/DE
(photo by ?)
Competitions
Five times first prize at Germany's National Youth competition "Jugend Musiziert"/DE

Winner of the International Recorder comeptition SONBU Utrecht/NL

Winner of a special prize for best own composition and most creative work SONBU Utrecht/NL

Award of the city of Münster for "best Ensemble"

First prize at the International Recorder dompetition Engelskirchen/DE

Theater work "Männersache' wins invitation to the "Theatertreffen der Jugend" Berlin/DE
Institutions
Veenfabriek (Leiden/NL)

Schauspielhaus Bochum (Bochum/DE)

Cactus Junges Theater (Münster/DE)

Korzo Theater (Den Haag/NL)
(Photo by Simon Eraker)
(Photo by Getoutski)
Festivals
Moers Festival (Moers/DE)

Traumzeitfestival Duisburg (Duisburg/DE)

Theaterfestival Tromsø (Tromsø/NO)

Theatertreffen der jugend Berlin (Berlin/DE)

Yo Opera! (Utrecht/NL)

International Community Arts Festival (Rotterdam/NL)

Toonzetters (Amsterdam/NL)


Support
Landesmusikrat NRW

Kunststiftung NRW
(photo Dirk Grobelny)
(Photo by ?)